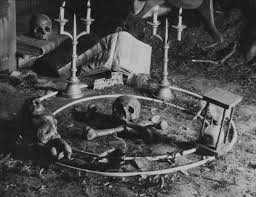 Black magic is sending destructive waves/ energy (generally through a ghost) targeting on a person without his consent or knowledge and bringing him under the control of our instructions.
If you may feel that your house has come under the attack of evil powers, blackmagic spells, witchraft etc then this power is very strong and will destroy all evil affects that are in your house Some times you will notice that your house is haunted, you may hear strange noises like people talking or even laughing and this can be very scary, some times evil spirits get settled in the house and it is very difficult for them to go once they have captured the house, this happens also if some enemy has casted any spell on your house and once they enter your house they bring bad luck and negative energies with them and as a result of all this once your house that was heaven for you turns out to be worse then hell.
Black Magic is done by involving many rituals and manthras. Manthras are of two types. One type is for constructive purposes. Another one is for destructive purposes.
In the case of constructive manthras, they help us grow in our material as well as spiritual life. For example, Gayathri Manthra spreads spiritual waves around us.  This will uplift one in his spiritual practices.
Whereas, The destructive manthras can bring and establish the ghosts to our place and spread negative waves/ energy inside our mind and  around us that will prevent all the good fortunes entering into our home.
They are done by some Tantriks who are able to invite and control some ghosts through these manthras, send them to us and make our liberal thought process inactive and hence the affected person will always show some symptoms as if he has lost something. He will not be able to concentrate in his productive activities everyone is expected to do.  He will be uninterested in worldly affairs.
These Tantriks use the ghosts (brought through some destructive manthras) to produce such negative vibrations against a person.  He first brings a evil minded ghost in his control through manthras and instructs that ghost to fulfill the task perfectly and then report him that the task has been done. When such ghosts are present in a house, the house loses its positive energy.
The tasks given to the ghosts usually are:  Creating Diseases, Poverty (by allowing the wealth to be stolen or losing job), mental illnesses, or in serious cases even killing the target person.
 After fulfilling the task given, the ghost comes back to the Tantrik and reports that he has done the given task.  Then, the Tantrik releases that ghost free.
Actually those who use these techniques for negative purposes will have to suffer in their next birth.  Even in this birth, such Tantriks will be leading a kind of restless life.
How the evil ghosts are sent to the home of the target?
These Tantriks use some materials of the target person such as  his piece of cloth worn by the person, his hair, his teeth, etc to incorporate the evil forces in them and then throws that material in the house or garden of the target person.  Thus, the ghost starts to live in that house.
WHAT ARE THE SYMPTOMS OF THE AFFECTED PERSON?
If Black magic has been done against a person, that person may show some or many of the following symptoms:
1) He likes to be alone all the time;
(2) he shows unrest and irritation always.
(3) Body pains particularly on the shouldres and head;
(4) Likes to remain dirty without bathing.
(5) Some peculiar smell will come from the affected person;
(6) he/ she will be talking alone;
(7) he/ she will be making unnatural body movements and biting the nails.
(8) No auspiciousness will be there in the home and Tulasi will not grow in that house (usually, tulasi plant will not grow in inauspicious surroundings.