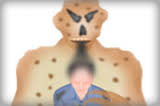 This article is about a specific grouping of negative subtle energies most commonly known as spirit attachments, cords, entities, and psychic attack. Though these energies can vary in power and potential effects, the overall philosophy of healing these concerns is the same. The process of clearing any of them from the energy field is generally referred to as spirit releasement.
It is an idea that many people are unfamiliar and uncomfortable with: might mental and physical illness be caused by spirits, disincarnate entities of various kinds? We live in a society where science has declared the invisible realms of spirits, angels and deceased souls are of fairy or fantasy books. But did they make a big mistake by doing so? People still report seeing and encountering spirits, ghosts, fairies and other spiritual creatures. Possession by spirit beings is still been reported, and in contrast to the movies it is not all evil. It is just a question of knowing what is going on and how to handle it. The following is based on accounts of different people who have successfully worked with identifying and liberating possessive spirits.
We know that symptoms of physical illnesses are caused by psychological factors as well as physical factors. But most of us are unaware that in a huge majority of cases,
The symptoms of our physical illnesses are caused first hand by spirits influence alone
Spirits influence have a big hand in aggravating the existing illness
Spirits influence are responsible for the non-response to adequate treatment in many cases.
Every day we are exposed to a multitude of so-called positive and negative energy influences. Some are created within ourselves and Others seem to come from around us via our interactions with people and events in our immediate lives and within the larger world community, as well as from a host of environmental sources such as weather, sound/noise, chemicals, toxins, water and food quality, and the like.
These influences play a large role in creating our state of health and well-being. If positive, we experience them as life-sustaining and enriching. Reversed, they can cause accumulations and stresses within our energy systems that weaken us, and which can lead to chronic and serious diseases and imbalances in the physical, emotional, mental, and spiritual levels of our being.
As a healer we are often called on to help our clients and students to heal from the effects of these kinds of influences as they show up within the auric field. At these subtle levels, certain negative blocks and patterns can be found, which, over time, can have undesirable effects on the person's health if left uncorrected. It is also a given that our own energy systems require the same kind of healing attention.