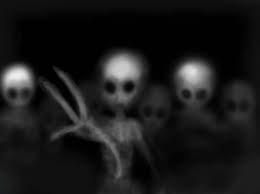 What is an entity or spirit?
The energy bodies (vehicles) of a dead relative, even your loving grandmother who was so depressed when she died
The energy bodies of a dead person who is wondering around, lost between dimensions, does not know he is dead,
The energy bodies of a person who died in a home, or another location. Who does not know he is dead and remains emotionally attached to the place
Energy bodies of an enemy, friend, family member from a previous lifetime
The energy bodies of a person who died in hospital, nursing home, cemetery and has not yet gone into the light
The energy bodies of your spirit guides who may never have had a physical body
Astral particles with consciousness which can be a blob or an octopus shape or a variety of other shapes
Your energy bodies
As you can see, the real question is "What are energy bodies and do you have energy bodies in addition to your physical body?" Yes, you have energy bodies that are part of your human assemblage, we all do and what these bodies do after the death of your physical body is very, very interesting. You too can become an entity after the death of your physical body. Don't you think it is time you learned more about your assemblage?
How to Recognize An Entity Attack / Spirit Attack
These are a few of the symptoms of an attack by an entity or entities. These attacks are not limited to adults. Many young children who wake up screaming in the middle of the night are under attack. The most obvious sign is the feeling of a presence; sometimes our pets can warn us about that presence through body language that "something, someone" is there
Waking up in fear at approximately the same time every night: waking up with compulsive, repetitive thoughts
 Panic attacks
 Compulsive thoughts you cannot control
 Feelings of pending doom or fear you cannot control and do not appear to be related to anything that has actually happened in your life
 A compulsive negative thought or urge that is inconsistent with your true nature
Prickling, stinging, itching, jabbing of the skin
 Sudden increase or onset of a physical pain or condition for no apparent reason
 Sudden onset of feelings of dread
Sudden need for alcohol, sugar, drugs, sex (Note: without an entity attachment you can chose to drink or not drink; with an entity attachment the entity makes the choice, you don't, and you end up drinking or smoking or eating when you don't really want to or know you should not)
 Waking up at night in a semi-comatose state, unable to move but perceiving that someone/something is having sex with your body; not necessarily unpleasant
Entity attacks
These entity attacks can drive you to drink, take drugs, commit suicide, beat your children, or act out in bad ways. That is the point, to beat up on you enough to get you to feel or behave in ways you would not willingly choose. For those of you who have spent months or years not sleeping well, these attacks are usually the unseen factor.
A special note about small children:
Many small children are under psychic, entity attack when they wake up in the middle of the night screaming. Yes, their stomachs are upset; yours would be too if you were so afraid. These are attacks designed to break down the consciousness and aura of the child (and also the parents) and when that objective is met, the attacks stop. The entities have broken the child's aura and now have a home inside the child's energy system. These entities can then lay low for years, waiting until a crisis, to act up. Acting up means bouts of rage, depression, or other behaviors not normally exhibited nor compatible with the child's personality. Many times you can actually "see" the change of expression on the child's face when he "acts out". The face is different because the entity has taken over part of the physical body of your child.
How to Recognize Entity Attachment
These are a few of the symptoms of entity attachment also called entity possession.. Remember, the entity could be your grandmother that died years ago but was very attached to you, (or you were attached to her).
1. involuntary movement of a part of your body: a twitch of the eye, an arm that stays in a position you did not choose, a snarl on your face that you try to change and it keeps changing back, convulsions, epilepsy, tics, finding you frequently have one leg lifted off the floor when you would prefer to have both feet flat on the floor, head tilted to the side when you would prefer to have it straight; the list is endless
2. depressions that won't go away
3. anger that is inappropriate for the circumstances
4. fear that is inappropriate for the circumstances,
5. phobias
6. unnatural inclination that you would prefer not to have (not your choice if you could chose)
7. personality traits that you would prefer not to have
8. sudden "landing on you" of anger or depression ("all of a sudden I got so depressed…") for no apparent reason
What to do to clear entities and send them on their evolutionary path:
All of the items listed below heal your home or workplace and release the spirits/entities, either by making the frequency incompatible with their frequency or by healing your aura or the aura of your home.