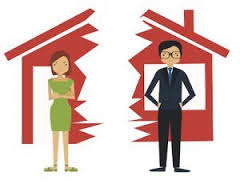 Healing from your divorce is not easy.  It's a long, sometimes painful process.
If you have recently been through a divorce, you may be wondering how long is the appropriate healing time after divorce and when you will start to feel like yourself again.
When a marriage ends because our partner leaves or betrays us, it's natural to experience feelings of rejection. When we are left, it can be a devastating experience and it can leave us feeling angry, sad, and self-critical — at times, ruminating about what went wrong. We may be in shock and feel shaken to the core of our being. Self-defeating thoughts can grab hold because we are vulnerable and trying to make sense of things. However, it's important to realize that this is a normal part of grieving and letting go after a marriage dissolves.
While it's natural to go through a period of self-reflection when you are rejected by your partner, it's important to keep things in perspective. Ask yourself if your fears of being alone are preventing you from looking at the breakup honestly. For instance, it's likely that there have been problems in the relationship for some time and that one or both of you have been unhappy.
Part of the grieving process at the end of a relationship is accepting that what you wanted to happen no longer will happen. Thoughts might range from: We will never have children together, to the mundane: We won't ever eat another meal together.
However, when we feel rejected, we might be listening to destructive "inner voices" . When we are listening to these destructive thoughts, we're more likely to feel humiliation than real sadness over our loss. Our inner critic fuels feelings of not being able to survive on our own, often saying that no one will ever love us. When these voices aren't viciously attacking us, they are often raging at our partner, which only supports a victimized orientation to a situation.
Feelings of rejection are closely tied to feelings of self-worth and self-love. Part of the healing process after divorce is recognizing and accepting that the way you feel about yourself affects the way you relate to people in the world. As you learn to accept what happens and begin to love yourself again, your feelings of rejection will diminish. When you're connected to feelings of self-worth, you'll have more energy to relate to others in meaningful ways.
Dealing with your raw emotions is part of healing after divorce. Divorce can be like a tornado. It takes your normal existence, tossing and turning everything in its path, leaving little resemblance of the life you had before. After it has passed, you are left to deal with the emotional baggage, wondering if you will ever feel happy and secure again.
When you think about it, aren't guilt and rejection two sides of the same coin when it comes to emotions after divorce? It makes sense that a partner who decides to terminate the marriage would experience more guilt, while the person who is left would suffer from feelings of rejection. Notice the difference in their priorities. The dumper typically focuses on personal growth and will say things like ,"I have to find myself." On the other hand, dumpees usually express a desire to work on the relationship and will say things like, "Just tell me what you want me to change and I'll work on it."
Is it possible to heal through your divorce?
Is it possible to "come out the other side" more in touch with your passions, hopes and dreams?
Can you reconnect with your body and find different ways to enhance your well-being?
Can you find joy and laugh often?
Yes its possible to heal the person of it's effect. We want to help you on your journey toward recovery. Using spiritual healing energy you can be healed of a divorce effects and lead a normal life again.