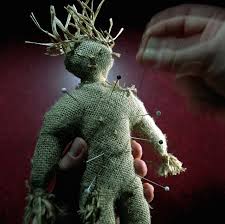 Black Magic can really play havoc with the life of the target person by destroying any aspect of life may it be career/business or wealth/prosperity, creating family problems or unnecessary tensions/phobias, adversely affecting children & family, creating chronic health problems, destroying mental peace, intelligence & happiness, cause inner turmoil, unrest & uncharacteristic/abnormal behavior and even cause unnatural deaths in extreme circumstances.
Black Magic not only affects the circumstances and future prospects of a person, but also deprives him materially of everything he was destined for, but also affects the psyche of the victim in such a way that one looses the will-power & mental energy to get out of the sinister situation one is in, and has no desire to live or rise in life.
The effects of Black Magic become more chronic, dangerous and fatal with time, if untreated, like a horrible disease. It starts spreading like a contagious disease, affecting the person's mind, brain, body, relationships, attitudes, Business, work, money, marriage, career and everything in life.
Proper recitation of mantras help invoke the natural forces to produce the desired effect. "Tantrasadhana" or tantrik meditation and worship helps one attain many supernatural powers. These powers may be used for good or for bad purposes.
The Misuse of Tantrik Powers –Unfortunately, a large number of tantrik enthusiasts, in both the West and the East, mistakenly identify tantra as the yoga of sex, black magic, witchcraft, seduction, and an amalgam of techniques for influencing the minds of others.
This is due, at least in part, to the fact that tantra is both a spiritual path and a science. As a spiritual path, it emphasizes on the purification of mind and heart, cultivating a spiritually illuminating philosophy of life. As a science, it experiments with techniques whose efficacy depends on the precise application of "mantra" and "yantra", ritual use of specific materials, and the performance of tantrik mudras and accompanying mental exercises.
In the layman's language, such practices can be thought of as tantrik formulae. They will yield a result if properly applied, regardless of the character, spiritual understanding or intention of the practitioner. When this scientific aspect of tantra falls into the hands of charlatans, it is inevitably misused giving tantra a bad name. Fortunately, however, there are still tantrik masters, authentic scriptures to undercut such false and distorted notions and make it possible for us to gain a better understanding of this sublime path.
VOODOO DOLLS—-
Voodoo Dolls are said to be very powerful voodoo dolls or magic voodoo dolls, voodoo dolls can be used for protection from any type of evil or black magic and many times it is also used as a source of destruction to destroy your enemy who is trying to harm or hurt you. Voodoo doll is used for taking revenge with your enemies as to destroy your enemy slowly by the power of voodoo doll, as voodoo dolls when in contact with you will get activated charged and will do great wonders for you.
Symptoms and Black Magic Bad effects–
Continuous illness. All medical treatments fail.
Constant worries, Suicidal tendencies, or Desire to move away from home and family.
Continuous illness of any member of the family.
Tiredness and weakness.
Eating disorders associated with obesity and anorexia.
Being short tempered. Sterility, without any physical deficiency or without any medical reason.
Repeated miscarriages or death of children.
Sudden unnatural deaths in the family.
Problems in the construction of new houses, new factory or any other building.
Shortness of money, in spite of hard labour.
No desire to live. Feels suffocated. Life seems useless. Apathy, no desire to rise In Life.
Achievement of objectives seems impossible.
Sudden quarrels between brothers or the members of the family, without any reason.
Unexpected loss in the business of property.
Ill health and under development of children.
Loss of peace due to the fear of enemies and their evil Designs.
Discord between spouses or the family.
Greatest efforts always resulting in failure.
Lack of Govt, favours, promotions and the desired raises or transfers.
Poverty, in spite of hard work.
Mental disorders – Insanity – Craziness.
These are some effects which prove that one is under the spell of the supernatural or black magic.
Even though Intelligent, one still fails to find solutions to such problems.
It is only due to "Black Works" that all your wisdom, all your strategies and all your intelligence fails.