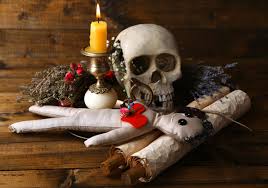 Back magic is the negative use of energies and power by jealous and malicious human beings, whose main objective is to harm or deprive others from something, or influence them to do something wrong or negative. Black magic is the evil side of the celestial cycle or negative energies. Black Magic can be used to harm or hurt another person by performing certain acts even at a far away place – the effect of this technique can be experienced thousands of miles away. With increase of jealousy, frustration, greed, selfishness, negativity and inability to accept other's happiness & growth, the use of Black magic has become the most common way to take out one's vindictiveness and get an evil kind of satisfaction from the turmoil of others. Voodoo, Evil Spells, Curses, Tantra problems, Evil eye, Spirits Of The Dead all can come out of Black magic.
Black magic puts a block on a person's wisdom and intelligence and all efforts to solve the problem go fruitless. One feels a mental block, gets disturbed sleep with bad dreams, and negative thoughts. There is heaviness and weight on the heart and constriction in the throat. At times, there could suddenly be blue marks on thighs without getting hurt, or faster & erratic heartbeat and breathing without any physical exertion. There are quarrels in the family without any reason. One might feel the presence of somebody in the house. One feels one is not getting one's due and can achieve much more. One feels suffocated & restless in all circumstances, and is never at peace. One remains depressed, with lack of enthusiasm or desire to live & rise in life.
Black Magic can really play havoc with the life of the target person by destroying any aspect of life may it be career/business or wealth/prosperity, creating family problems or unnecessary tensions/phobias, adversely affecting children & family, creating chronic health problems, destroying mental peace, intelligence & happiness, cause inner turmoil, unrest & uncharacteristic / abnormal behavior and even cause unnatural deaths in extreme circumstances. Black Magic not only affects the circumstances and future prospects of a person, but also deprives him materially of everything he was destined for, but also affects the psyche of the victim in such a way that one looses the will-power & mental energy to get out of the sinister situation one is in, and has no desire to live or rise in life.
The effects of Black Magic become more chronic, dangerous and fatal with time, if untreated, like a horrible disease. Black Magic starts spreading like a contagious disease, affecting the person's mind, brain, body, relationships, attitudes, work, money, marriage, career and everything in life. Putting a Black magic spell on someone is very easy for those knowing even a little bit but to remove the spell and eliminate it's sinister effects needs lot of expertise.
When Frederich Nietzsche wrote that your revenge may leap out from behind your justice, this may have been true in more than a philosophical sense. Although the common perception of magick curses is that they are evil, black magic can be used for good as well. The prime example of this is when revenge and justice are intertwined. If someone has harmed you and there is no recourse except for a curse or hex, many occultists and experienced casters would agree that it is justified.
The world can be a rough, unfair place where the good do not always seem to prevail. This is most evident when bad people rise to powerful situations by lying, cheating, and clawing their way to the top. Frequently they hurt many others along the way. To make matters worse, these people are often never held accountable for what they have done. When a person is materially powerful and they are not breaking a law there is little that can be done to them in a conventional sense. However, this is the perfect opportunity to use a curse this can do a lot to them.
If a person is bad, and you will have to use your best judgment to determine this, using a curse upon them is often considered a good thing. This is one reason many casters will perform curses without fear of hurting their karma, a curse upon a bad person will not incur any negative karma. In many cases, it will actually improve the caster's karma! So while hexes and related magic spells are powerful and nothing to toy with, they are not evil or off limits.
Part of the duty of each individual is to uphold their own principles and, when someone is in distress, to attempt to right the wrongs. This is very frequently achieved through curses, and has been a domain of cursing magic for thousands of years.
An example would be a curse upon a person who is a burden to his or her village. Imagine you live in a small village and so does a thief. This thief sneaks around to everyone's cottage in the middle of the night and steals things. Would it be bad to place a curse on the thief to stop them from stealing? Most people would say no. You have to be creative with this and determine when and how a hex is appropriate.
Curses are hard to cast, and many casters will not approach them. This is because they are inexperienced, fearful, or find it inconsistent with their own personal ethical stance. You may have to do a bit of searching to find someone you trust who can cast real curses for you. However, a thorough search is worth it to find an individual who can live up to their promises and cast real spells on your behalf.
A curse is a malediction, the opposite of a benediction. The person doing the cursing is wishing or invoking misfortune or evil upon the victim. The only question is, does the curse have any effect, or is it merely a satisfying way of letting off steam? An irate driver may shout at another, "I hope you crash and burn!" But aside from helping pump adrenaline, the words have no effect. If such curses were effective, the world would be chaotic indeed.
But a curse delivered by a being of power – a god, a spirit, a magic worker – is a different matter indeed. Someone, perhaps a Native American shaman, is said to have cursed the U.S. presidency so that, beginning with Indian-fighter William Henry Harrison in 1840, the person elected every 20 years would die in office. The curse held true for Abraham Lincoln (1860), Chester A. Arthur (1880), William McKinley (1900), Warren G. Harding (1920), Franklin D. Roosevelt (1940), and John F. Kennedy (1960). Ronald Reagan (1980) escaped this curse, but there is speculation that it is nevertheless not yet broken. And when you get to someone like Jesus Christ, the mere utterance of a phrase "You shall wait until I return" is enough to create the Wandering Jew, cursed with being forced to wander the earth and being unable to die until the Second Coming.
Human beings capable of delivering effective curses are commonly thought to include shamans, priests, and witches. The heaviest curse delivered under the authority of the Church is excommunication. The priest reads the rite from a book: "We exclude him from the bosom of our Holy Mother the Church in heaven and on earth… We judge him condemned to eternal fire with Satan and his angels." The book is then shut, symbolizing the fact that Scripture is now closed to the victim. A bell is tolled, as if for the dead. Finally, in a hideously dramatic gesture, candles are thrown down or inverted and extinguished against the floor, showing that the soul of the cursed one has been removed from the sight of God.
Although witches in fairy tales and folklore are said to have been fairly free with curses, from turning people into frogs to bringing about the ruin of Macbeth, king of Scotland, modern Wiccan ethics advise against the practice. The operative principle is the Threefold Law – whatever harm you cause will return unto you three times as harshly.
A curse is no reason to lose hope. At the fist sign of evidence a curse has been placed immediate action should be taken to remove the curse. Additionally, there are ways to prevent a curse. Caution should be taken, however, when attempting to fight a curse, as inexperienced casters may actually compound it and make it worse. You should seek out a professional witch to remove or protect you from curses.