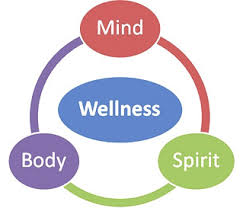 Many are seeking holistic and integrative approaches to health and wellness. We have all heard the words mind, body, soul. We know they describe aspects of a human being, but do we really stop to think about what these words really mean and their profound impact on our lives? If there is a mind, body and soul connection, it must be true that anything directly affecting a person in one of these areas, must affect all other areas as well. For example, an event or disease affecting the body must also affect the mind and the soul. An event or dis-ease that affects the mind must also affect the body and the soul, etc. We are whole human beings and our component parts, while seeming unrelated, are intimately connected.
Holistic addiction and trauma treatment is an approach based upon the knowledge that sustained recovery can only occur when a person's physical, emotional, mental, and spiritual health are addressed. The body, mind and soul are connected and disease affecting one of these areas must affect all other parts of the person.
Traditional treatment centers are often fragmented and focus predominately on the mind and peripherally the body.
The body, mind and soul work as a system of energy. We connect our body, mind and soul to keep energy flowing within us. This energy flow can be abundant or restricted, depending on our 'state of being' in each moment and it changes constantly.
Our state of being is our overall feeling of health and wellness. It refers to how balanced we feel on all levels of our being. Whether we are happy or sad, sick or well, disconnected from spirit or not, we are either in or out of alignment with who we really are.
When in alignment we:
Experience joy in everything we do
Treat others with love and respect
Treat ourselves and our bodies with love and respect
Have a sense of purpose and universal service
And when we are out of alignment, we experience the exact opposite of all of these things! The goal is to harmonise your state of being so that you can effortlessly create the life that you want. Here's how the body, mind and soul fits together…
There are components of the body, mind and soul that contribute to the flow of energy at each level. And there are 'bridging mechanisms' which contribute to the overall balance and flow of energy between each level. In other words, there are things that we do in each moment that facilitate or go against our natural flow.
When we talk about the human body, most of us refer to the physical form that we see in front of us. However, in reality, every person is made up of four bodies, all of which interrelate to one another and coexist in harmony.
A disruption or imbalance between these bodies can lead to a number of health problems. Thus, it is necessary to understand how one body relates to another and how they can all be kept in perfect balance to live a healthy and happy life.
Four Bodies that Make One Complete Whole
In order to balance our four bodies, we first need to discover what these are and understand them thoroughly. The four bodies are:
MENTAL
The mental body encompasses our mind and thought processes. It is that part of our body, which deals with reason, logic, and perception. All thoughts, beliefs, and mental capabilities are controlled by our mind or mental body. From the most basic concepts to advanced theories and secrets of the universe, the mental body has power over it all and can expand its reach to great limits, enabling you to think beyond your wildest imagination in the search for logical perception. Our mental body allows us to perceive the world in a particular manner and governs our thoughts regarding everything we experience in our lives.
PHYSICAL
The most commonly understood body is the physical form. It is the way we see our body in its human form. Made of flesh and blood, with bones, muscles, and organs; covered by layers of skin. The physical body is a material presence, a tangible form that provides us with the ability to use our senses of touch, taste, sight, smell, and hearing. It is also a body that grows and changes in shape, capable of experiencing pain and injuries.
SPIRITUAL
The soul within the body is our spiritual self. Known as an aura or a soul, the soul is our purpose of life. It is the means of finding one's true destiny in the world. The soul is what gives you the purpose to strive forward and become a better person. Every soul is said to have its purpose and the spiritual body is lost without it. A disturbed spiritual state can lead to mental stress and cause physical health problems as well. The spiritual state is the consciousness and discovery of who we really are and what our life's purpose is supposed to be.
EMOTIONAL
The fourth and last body is the emotional one, concerned with our feelings, sentiments, and reactions. People excel in their lives if they have self-awareness, a control over their impulses, persistence, empathy for others, motivation and drive to achieve their goals, and good communication and social skills. We lose our tempers and act on our impulses due to the state of our emotional body. With time, the emotional body grows and matures, providing us with better control over our feelings. A happy person will face less health issues as compared to a person who is depressed, because negative emotions channel negative energy through your body and damage your mental and physical health.
Maintaining a balance between these bodies is necessary for living a stable and healthy life. The harmonious coexistence of the four bodies; mental, physical, spiritual, and emotional, is the key to ultimate health and happiness in the world.
The functions of the body, mind and soul are :
THE BODY
The physical body is designed to communicate its needs, dislikes, problems through sensory perception. Our actions are directed towards satisfying our desires that are highlighted through the sense of sight, smell, taste, touch, and hearing. Our body reflects our inner being, if our mind, body and soul are in balance then our body is in balance. Disease occurs when the mind, body and soul are not working in harmony, the term dis-ease represents the turmoil created when these three components are out of alignment. The body is a complex machine designed by nature to serve the spirit /soul. Without the soul or connection to the vital life force, the body is useless. After death the body decays and cannot function. In today's society people have lost track of just how important the soul/spirit is and how to utilize it to maximize our experience of life.
To this end the senses should be used to support the soul, guiding us to the things that are in harmony with our life path or that are good for us. However over time the senses have aligned with the mind or brain. When the brain leads, and life choices are made that are not in true alignment with the souls desire, we experience disharmony and the senses start to function in a way that wants to satisfy and bring back a sense of balance and peace. Negative emotions arise when we are not in balance. When a person is fully connected these emotions subside quickly, the trust in the Creator or sense of knowing that natures wisdom supports you allows you to quickly let go of low vibrational energy like sadness, fear, insecurity, hopelessness, panic, unhappiness, boredom, jealousy or anger. When a person lacks connection these negative emotions can sit with a person for a long time and even gain intensity over time.
The senses, in these cases, work to counteract these emotions , people may start to excessively crave the things that have brought them any state of happiness regardless of whether the happiness was temporary or not. People crave things like money, sugar, chocolate, sex, alcohol, drugs, attention, nice clothes, and new objects, music geared to bring release of anger, frustration or tears. People can crave new experiences in a constant effort to bring satisfaction and balance. When the brains direction contradicts the spirits desires we suppress our truth, our natural instinct and distortion can occur. On the one hand logic directs us one way, the spirit and soul another, the brain senses imbalance and the chemistry in the body responds. Suppressed desires, unhappiness, boredom, lethargy, anxiety, stress, worry, sadness, jealousy, anger, loss, loneliness, emptiness and a feeling of dissatisfaction can bring about a deterioration in health and over time lead to dis-ease.
THE MIND
The mind can function at different levels, it is the thought mechanism that drives our physical body to experience, it works with the brain and the soul and as such determines how the body responds. When we are born we are connected to the Universal Intelligence, our mind follows our natural guidance. When a baby is born it naturally follows its desire to suckle the mother's breast and to cry when it needs something. There is no analysis in the mind weighing up the advantages and disadvantages of suckling or crying. Over time the mind loses this strong connection to intuition as stimuli in the environment start to influence behavior. Actions generate responses, pain, laughter, sadness, anger and over time the mind creates a memory bank which serves to influence future actions. As this memory bank grows the mind starts to make decisions based upon learned responses. The memory bank expands to incorporate responses influenced by knowledge, social demands, familial expectations, material pressures and media influences. The mind is bombarded with a myriad of signals that influence our actions and it is within this jumble of messages that in time our connection to the Universal Intelligence or nature's wisdom, our natural intuition can be lost. The mind starts to depend on the learnt responses rather than the intuitive ones and a discrepancy with the soul path can emerge, creating dissatisfaction and imbalance. When this happens people can face disappointment, failure, stress, anxiety, loss of faith, loss of self-esteem, low confidence, fear from future, hopelessness and depression.
It is so important for our mind to be aligned with our soul/spirit, to make decisions that feel right, to allow our bodies and actions to be guided by that source of Infinite Intelligence and wisdom that creates and drives everything in nature. Everyone deserves to be happy, we are born to experience life, to fulfill our desires and contribute to the world in which we live in a way that satisfies our soul. We are all different, not designed to be a perfect replica of each other and through following our inner guidance system we can learn to uncover our unique gifts and natural talents that are connected to our soul path, become our true selves and bring our unique wisdom to the world. In this connected state our soul mind and body are in balance, bringing health and wellbeing to our lives and ultimately true happiness in our lives.
THE SOUL
The soul is the core of our being. We can never experience happiness by suppressing our spirit and our soul. The mind needs to feed the soul without which life does not exist. By connecting to our inner guidance system and raising our consciousness, the mind nourishes the soul and we are able to attain profound peace and inner bliss. The soul is able to establish a connection with the Divine/ Universal Intelligence/God of your Understanding /Natures Wisdom and gain true happiness in life.
The result is we become happy both inside and outside. We are able to find the true meaning of our lives, happiness is gained and spread around us.
Soul Mind Body Infographic
The soul mind and body are said to be in harmony if we have
Awareness of the Self
Realization of life purpose
Raised consciousness
No fear of the uncertain
A deep connection with the God of your understanding