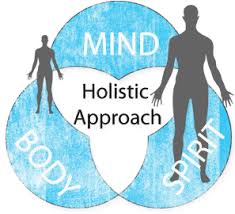 The Definition – What is holistic healing?
First, we must answer the question, 'what exactly is healing?' Healing is about bringing any imbalance into alignment with its natural state of functioning.
Every organ in our bodies has a natural or 'healthy' state of functioning as do our emotional, mental and spiritual states. When we are out of balance, we feel like something is out of place – whether it comes in the form of emotional or physical pain or discomfort – and we naturally want to return to our natural state of harmony, when everything 'works' as intended. This process of rebalancing is synonymous with healing.
Holistic healing bypasses the 'band-aid fix' approach of conventional medicine, looks beyond a person's physical state and sees the holistic view of their state of being or functioning. It acknowledges that the root cause of a physical illness may in fact be non-physical.
Holistic healing works when we we approach life from all aspects of being – physical, emotional, mental and spiritual.
Therefore, a holistic approach is considered to be more effective because change occurs on all levels and as a result, positive changes are more likely to last long-term and improve a person's overall quality of life.
When we heal holistically, we address imbalances on all levels, rather than one or two, and so it becomes a life-long process in achieving overall life balance. The ultimate goal of aligning the body, mind and soul promises a happier, healthier, more balanced state of being.
Holistic healing is based on a philosophy of promoting mind body wellness. How well-being is restored, to what extent, and which methods are used are as varied as the people seeking to be healed.
What does not vary is the ultimate aim to achieve optimum whole self health. To make that happen, unbalanced or unhealthy aspects of mind, body and spirit are all taken into consideration and addressed. It also means that the power of mind and spirit may facilitate physical healing and issues in the physical body may be focused on to facilitate mental well-being.
What is Holistic Healing? What is beautiful about holistic healing is that it puts the responsibility and power for healing in your hands, not in those of a "healer", even though you may wisely be seeking advice and help from others. It empowers you to make choices and take actions on your behalf and addresses you as a whole person.
Holistic healing is not a cookie cutter approach. People with the same 'dis-ease' may end up with completely different treatment plans based on their motivation, symptoms, lifestyle, resources, stress levels, and emotional and mental history. You may get amazingly quick results, or it may take months to notice a meaningful shift. These shifts may be in the direction of health, but may not be what you were specifically hoping for. If you ever heard a cancer patient say she was healed even though death is near, you know what that means.
Whole person healing is about bringing your mind and body back into balance and nurturing that balance over your lifetime. It is not about cure, although that would be wonderful and may very well happen. It is about returning to wholeness. That is an abstract concept which basically means that you feel complete and at peace within yourself. You deeply understand yourself, accept yourself in mind and body, and love yourself in the healthiest of ways. This is not about complacence. Real love often requires taking action to improve your life.
Whole person healing is about addressing causes. It is not about controlling symptoms, although that may be necessary and beneficial at times. It is about addressing the whole as much as possible, not just the vulnerable, 'dis-eased' part. The understanding is that something within the whole is stressing the part, which needs help, not suppressing, bypassing, or cutting out unless absolutely necessary. If not too far gone, the part will recover when the whole is restored.
There is a common misconception that holistic healing is natural healing. This is absolutely true, but not necessarily in the way it is meant, which is usually about methods. It is about your naturally self healing body and mind, which naturally seeks balance when given what they need and what is harming them is removed. The body is always striving for balance and will maintain it so long as nothing goes awry.
It is also true that lifestyle adjustments and natural methods and remedies are preferred. However, it is also true that modern medical assistance may be necessary and a best choice at times. It may also be beneficial to include help that is not medical at all. That might mean taking advantage of spiritual counseling, financial management classes, relationship therapy and/or a career change. Who you choose to assist you, and the methods you work with will depend on your changing needs and preferences.
The body and the mind act in unison. Physical symptoms may indicate the state of mind or vice versa. Medical intervention should take into consideration the whole rather than isolated parts. This is the holistic approach.
The purpose of holistic healing is to provide long-term improvement and health. This may even cause short-term pain. Intervention should be minimal since nature, in her wisdom, knows the best course. Pain can serve to make us aware of the problem so that we give our body the chance to heal. Pain can also make us aware of our emotional state, thus helping us in our own personal evolution. A natural diet, good exercise and calmness of mind can be one of the best means of holistic healing in a number of cases.