An introduction to chakras
The primary energy centres (chakras) are the non-physical organs of the energy body. There are at least seven primary centres, and over three hundred secondary and minor centres, scattered throughout the human body. All together, they form a complex network of non-physical energy components. These are all joined together by interconnecting pathways, or meridians.
These centres, and their interconnecting pathways (meridians) were charted by the Chinese, and other Eastern races, thousands of years ago.
Modern versions of these charts are still widely used today, in many types of alternative medicine and body work, i.e. acupuncture and reflexology.
There are active centres – transforming and manipulating energy – feeding other energy centres and taking care of life processes – both physical and non-physical. There are storage centres, communication centres, and centres designed to absorb energy from other energy sources around us.
Primary energy centres are attached to major internal organs, glands, nerve ganglia and the spinal cord. Secondary and minor energy centres are attached to joints, glands and nerve clusters, throughout the body.
Some Energy Sources
Food, water, oxygen, sunlight, planetary energy, cosmic energy and  love. Some of these energy sources are very subtle, but all are necessary for us to live a balanced life.
Energy centres are invisible to the naked eye but can be felt, quite strongly, when they are active (as a pulsing, thrumming sensation) . When energy is consciously drawn from one centre to another, through the connecting meridians, this can be felt as: A rushing water sensation, a spreading warmth, a tingling feeling, or a combination of these. Energy centres (chakras) can also be seen – with auric and clairvoyant sight – as whirling vortexes of intensely coloured light.
Every energy centre has important individual functions, in the energy body. It also works in conjunction with all the other major and minor centres. Each centre is an individual, but integral part of the energy body. They all work together, for the good of the whole energy body; just as all the physical organs, brain, heart, liver, kidneys, glands, etc, work together for the good of the whole physical body.
The energy body is extremely complex. It is, in a way, similar to an electronic device. Energy flows into the electronic device, and on through connecting pathways (meridians) that are etched into the circuit board. These connecting pathways (meridians) carry energy on to all it's electronic components, (chakras), diodes, resistors, capacitors, etc. Energy is continually being changed, enhanced and transformed, by these components; to serve a multitude of different purposes, required by the device, as a whole unit, to function properly.
A single energy centre, is very much like a single electronic component. It takes in energy from the components around it, and changes the value of it. It enhances this energy, in various ways, transforming it into something different, that is needed by the whole unit.
Each energy centre (chakra) takes in the different types of energy it requires, from other energy centres in the energy body, and generates a completely different type of energy – with a different value and colour – according to what is required.
The strength of each primary energy centre, in any particular person, depends upon that person's individual makeup; their nature, health and life style, as well as their spiritual, moral and psychic development. The energy generated by all the chakras at once, is reflected into the aura, mixing together and causing the dominant hue of the aura. This, dominant hue, is the part of the aura most commonly seen with auric sight.
"Chakra" is a Sanskrit word literally meaning "wheel."  These centers were named as such because of the circular shape to the spinning energy centers which exist in our subtle etheric body, the non-material energetic counterpart to our physical body.  There are seven main chakras and they are located along the spine extending out the front and back of the body.  Each chakra has a number of specific qualities that correspond to the refinement of energy from the base-level material-self identity, located at the first chakras, up to the higher vibration spirit-level awareness of being at our crown.  These energetic centers represent our highest level of integration split, prism like, into a spectrum of colors. Our opportunity in studying them is to learn how to master each chakra's essence and unite them all into a unified field of brilliance.  As such, we re-unite our disparate parts into a radian light of full self-awareness.
Our Seven Life-Force Energy Centers
The chakras are formed at the junction of three connected energy shafts that ascend the spine, one on each side of the central channel, the Shushumna. The two lesser channels of energy — the Pingala on the right and Ida on the left — run parallel to the spinal cord. Chakras both take up and collect prana (life force energy) and transform and pass on energy. Our material bodies could not exist without them for they serve as gateways for the flow of energy and life into our physical bodies.
Each chakra is associated with a certain part of the body and a certain organ which it provides with the energy it needs to function. Additionally, just as every organ in the human body has its equivalent on the mental and spiritual level, so too every chakra corresponds to a specific aspect of human behavior and development. Our circular spirals of energy differ in size and activity from person to person. They vibrate at different levels relative to the awareness of the individual and their ability to integrate the characteristics of each into their life. The lower chakras are associated with fundamental emotions and needs, for the energy here vibrates at a lower frequency and is therefore denser in nature. The finer energies of the upper chakras corresponds to our higher mental and spiritual aspirations and faculties.
The openness and flow of energy through our chakras determines our state of health and balance. Knowledge of our more subtle energy system empowers us to maintain balance and harmony on the physical, mental and spiritual level. All meditation and yoga systems seek to balance out the energy of the chakras by purifying the lower energies and guiding them upwards.  Through the use of grounding, creating "internal space," and living consciously with an awareness of how we acquire and spend our energy we become capable of balancing our life force with our mental, physical and spiritual selves.
In order for us to become fully self-realized and in harmony with our physical and spiritual nature our denser lower energies need to be harmonized with the lighter energies of the upper centers. This is to say our survival and base tendencies have to be raised to incorporate a heart-felt spiritual focus expressed in all areas of our being. Indeed, each of the upper-level energies corresponds and refines a lower level counterpart: 7th with 1st, 6th with 2nd, 5th with 3rd.  In the center of our being is full integration into the heart.
Each center has an integral function in creating our energetic balance. It is through the study of our energetic and physical being that we can create health, emotional stability and spiritual bliss. The following chart maps out the primary qualities of each chakra, its corresponding location in the body, color, physical and emotional realms of influence, and its greater significance.
This image shows where the main chakras in are located in your body.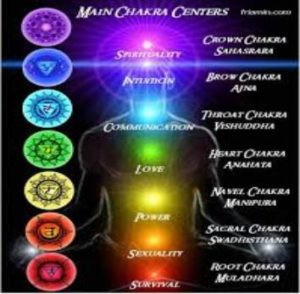 Chakra 7 – The Crown
It's colour is violet and is located at the top of your head. It is associate with the cerebral cortex, central nervous system and the pituitary gland It is concerned with information, understanding, acceptance and bliss. It is said to be your own place of connection to God, the Chakra of Divine purpose and personal destiny. Blockage can manifest as psychological problems
Chakra 6 – The Third Eye (or Brow Chakra)
It's colour is Indigo (a combination of red and blue). It is located at the centre of your forehead at eye level or slightly above. This Chakra is used to question the spiritual nature of our life. It is the Chakra of question, perception and knowing. It is concerned with inner vision, intuition and wisdom. Your dreams for this life and recollections of other lifetimes are held in this Chakra. Blockage may manifest as problems like lack of foresight, mental rigidity, 'selective' memory and depression.
Chakra 5. The Throat
It's colour is blue or turquoise and is located within the throat. It is the Chakra of communication, creativity, self-expression and judgement. It is associated with your Neck, shoulders, arms, hands, thyroid and parathyroid glands. It is concerned with the senses of inner and outer hearing, the synthesising of ideas, healing, transformation and purification. Blockage can show up as creative blocks, dishonesty or general problems in communicating ones needs to others.
Chakra 4 – The Heart
It's colour is green and it is located within your heart. It is the centre of love, compassion, harmony and peace. The Asians say that this is the house of the soul. This Chakra is Associate with your lungs, heart, arms hands and thymus gland. We fall in love through our heart Chakra, then that feeling of unconditional love moves to the emotional centre commonly known as the solar plexus. After that it moves into the sexual centre or Base Chakra where strong feelings of attraction can be released. When these energies move into the Base Chakra we may have the desire to marry and settle down. Blockage can show itself as immune system , lung and heart problems, or manifest as inhumanity, lack of compassion or unprincipled behaviour.
Chakra 3 – The Solar Plexus
It's colour is yellow and is located a few inches above the navel in the solar plexus area. This chakra is concerned with your digestive system, muscles, pancreas and adrenals. It is the seat of your emotional life. Feelings of personal power, laughter, joy and anger are associated with this centre. Your sensitivity, ambition and ability to achieve are stored here. Blockage may manifest as anger, frustration, lack of direction or a sense of victimisation.
Chakra 2 – The Sacral (or Navel Chakra)
It's colour is orange and it is located between the base of your spine and your navel. It is associated with your lower abdomen, kidneys, bladder, circulatory system and your reproductive organs and glands. It is concerned with emotion. This chakra represents desire, pleasure, sexuality, procreation and creativity. Blockage may manifests as emotional problems, compulsive or obsessive behaviour and sexual guilt.
1. the Base (or Root Chakra)
It's colour is red and it is located at the perineum, base of your spine. It is the Chakra closest to the earth. It's function is concerned with earthly grounding and physical survival. This Chakra is associated with your legs, feet, bones, large intestine and adrenal glands. It controls your fight or flight response. Blockage may manifest as paranoia, fear, procrastination and defensiveness.