Many people are unaware of the presence of non-physical energies and beings that can actively interfere with their energy and emotions and also the atmosphere of places such as a house or room.
These energies and beings are actually rampant at the present time as clearing processes have become largely lost to the Western World. Growing materialism and fast-paced, complicated lives have shut down many people's non-physical perceptions and this has led to society losing its knowledge of entities etc. In the past 2000 years there has been a decline in the clearing of entities to almost a complete stop, leading to a growing number, all looking for a person to latch onto. Even many of the priests of Western religions have lost their vision and know-how of clearing.
Where do entities come from?
Mainly these entities come from people's astral bodies when they die, as the astral body breaks up without the physical and etheric body to hold it together. Conflicting parts of the astral body (mind/emotions) can no longer hold together and as its vibration rises it shatters mainly into astral dust which is reabsorbed into the astral planes. Unfortunately some chunks hold together and retain a consciousness of their own, becoming astral fragments/entities. These would be the most crystallized parts of the astral body.
These astral fragments need etheric energy (life-force) to hold them together or they will eventually break up into astral dust and be reabsorbed. The only place they can get enough energy to survive is from a person or animal but they certainly seem to prefer a human host.
When they find someone suitable often with similar emotional characteristics to itself, the entity will try to get into the person's energy and live there. This will drain life-force (etheric energy) from the person and also impose emotions on them (astral energy).
Very large fragments with enough etheric energy may survive without a host and these may live in houses or public places. These large entities are usually referred to as ghosts. They may attach to a person with a cord of astral/etheric energy while remaining in these places and then affect the person similarly to a smaller fragment inside their energy.
Other entities that can parasitize people include nature spirits, elementals and others which are not so easily categorized.
Entities are actually quite a problem at present with most humans being the home for one or more. With our senses being so dull due to such crystallized astral and weak etheric bodies we can only feel the effects of the entity. Often these effects will be lack of energy, depression, anxiety and all types of other negative emotions. We assume that these emotions are our own and therefore have no idea that an entity is causing such problems. Actually the entity isn't the sole cause of the problems. To attract an entity you must first resonate with it to some degree. So you had some feelings of loneliness or whatever and so did the entity. This is what attracted it and so your initial negative emotions are amplified by the entity and it also drains your etheric energy making it harder to stay on top of such negative emotions.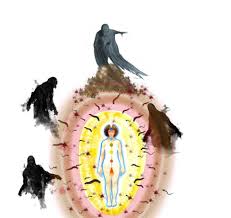 An entity can only get into your energy if there is a weak spot or hole in your aura. Most people have some weak spots which become worse when under pressure or emotional stress. It is due to ego structure and astral crystallization that weak spots occur. In fact the very nature of Astral Substance attracts entities. When it comes to Astral Substance, like attracts like so you have a situation where different types of Astral Substance pool together and keep on attracting more. This is how the negative astral planes have been created, basically all the negative energies have come together to create negative dimensions of Astral Substance, usually of a very low and chaotic vibration. Intoxication by alcohol or other drugs is a common way to resonate with these negative astral planes and attract entities into your energy. In pubs and clubs you will find a strong connection to such planes and an abundance of entities looking for a potential host.
At death, if you are experiencing extreme emotions such as anger and hate you will be taken straight to these negative astral planes as soon as you leave the body. This is because your astral body will be resonating with the negative planes and because like attracts like in the astral world you will suddenly find yourself in these realms. Once there you will likely see all kinds of hallucinations such as monsters and the like until your astral body begins to shatter (this is often referred to as 'the afterlife wandering' or 'the Bardos' in Tibetan Buddhism). At this point your light body will be released and you will continue up into higher dimensions but the part of your astral body that was attracted to the negative realms will likely break off as an entity. If the emotions felt at death were very common and very much a part of your personality while incarnated then the entity will be larger. Once separate the entity will first try for a host with someone or somewhere familiar such as your home or your friends and family. If it can't host on these people it will probably go for the nearest pub.
The lines along which the astral body shatters are along the lines of crystallization. The more crystallized your astral body and therefore the more rigid your personality was, the more entities will be created and the larger they will be.
The information here should not scare you as you have probably been living with entities for years. With the practices available in Past Life – Regression and Spirit Releasement you will be able to find and explore entities and even begin clearing them. It is amazing what a difference it can make when a core entity is cleared. Emotional issues that have plagued people for years are sometimes cured almost immediately. The person must continue the work of clearing their own energy as well but the difference can be very tangible when an entity is thoroughly explored and cleared.
If you clear your own astral body while still alive you will not leave any entities behind for others to clean up. Through spiritual work your astral body is cleared of Samskaras and merges with the light body. This merger transforms the astral body into a lighter and more malleable substance that does not shatter into pieces at death. This is referred to as the transformed astral body.
Spirit Attachments
"The condition of spirit possession, (that is, full or partial takeover of a living human by a discarnate being) has been recognized or at least theorized in every era and every culture. In 90% of societies worldwide there are records of possession-like phenomena.  Extensive contemporary clinical evidence suggests that discarnate beings, the spirits of deceased humans or negative/demonic entities can influence living people by forming a physical or mental connection or attachment, and subsequently imposing detrimental physical and/or emotional conditions and symptoms. This condition has been called the "possession state," "possession disorder," "spirit possession," or "spirit attachment".
Earthbound spirits and negative/demonic entities are the most prevalent possessing, obsessing or attaching entities to be found. The disembodied consciousness seems to attach itself and merge fully or partially with the aura of a living person, exerting some degree of influence on thought processes, emotions, behavior and the physical body. The entity becomes a parasite in the aura of the host.
Severe stress may cause susceptibility to the influence of an intrusive spirit. Altering the consciousness with alcohol or drugs, especially the hallucinogens, loosens one's external ego boundaries and opens the aura to infestation by discarnate beings.
Spirit attachment does not require the permission of the host. The apparent conflict here stems from the definitions of permission and free will choice. Ignorance and denial of the possibility of spirit interference is no defense against spirit attachment. Belief or lack of belief regarding the existence of intrusive entities has no bearing on the reality of these beings and their behavior.
In denial and ignorance, most people do not refuse permission to these nonphysical intruders. Individual sovereign beings have the right to deny any violation or intrusion by another being. With limited, if any, knowledge and distorted perceptions of the nature of the spirit world, the nonphysical reality, many people leave themselves open space in the aura and create their own vulnerability as part of creating their own reality.
The host is usually unaware of the presence of attached spirits. The thoughts, desires and behaviors of an attached entity are experienced as the person's own thoughts, desires and behaviors. The thoughts, feelings, habits and desires do not seem foreign if they have been present for a long time, even from childhood. This is a major factor in the widespread denial of the concept and lack of acceptance of the phenomena of discarnate interference and spirit attachment, obsession or possession. The symptoms of spirit attachment can be very subtle. An attached spirit may be present without producing any noticeable symptoms.
A living person can have dozens, even hundreds of attached spirits, as they occupy no physical space. They can attach to the aura or float within the aura outside the body. If any part of the body of the host has a physical weakness the earthbound can attach to that area because of a corresponding weakness or injury to the physical body of the spirit prior to death. A spirit can lodge in any of the chakras of the host, drawn by the particular energy of the chakra or by the physical structures of that level of the body. Many areas of a person's life can be influenced by one or more attached entities.
What is your Aura?
The subtle bodies that surround the physical body are collectively known as the aura. The purpose of the aura is to act as a protective screen to block out and repel the negative energies, thoughts, and feelings of others, and also to prevent leakage of your own energy. However, holes, known as auric tears, can form within the aura, weakening it, and thus making it susceptible to harm by invading outside energies. These tears have many causes, including stress, trauma, depression, abuse, and physical injuries or illnesses to name just a few.
Negative Energy
Negative people energies come in many forms and in many ways. Stress, for example, can be contagious and be passed from one person onto someone with a weakened or damaged aura. Irritability and anger are also negative energies that can easily be passed onto someone else.
There are also what are called psychic vampires or leeches. When your aura is not strong, it can feel like these people are sucking out all your energy, leaving you feeling exhausted afterwards.
And then there are those who deliberately project ill-wishing towards another, usually out of anger, jealousy, envy, or ignorance. This is known as a psychic attack. When there are tears or holes in the aura, these and other negative energies can penetrate the aura and be passed onto you.